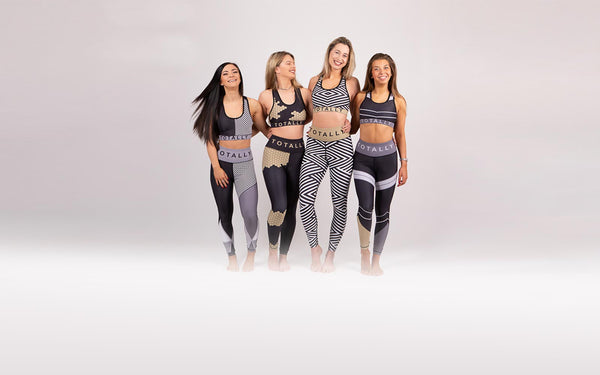 Totally Sassy is a stunning gym wear brand, which has been created by the founders of Totally Shredded. 5 years ago, Dean Heitman chose to combine his passion for fitness, with his passion for drum and bass. The result: a phenomenal workout, guaranteed to put a smile on the face of those who partake.
To order your Totally Sassy gym wear, please visit there online shop - Totally Sassy Online
This Totally Shredded workout, is a workout like no other, we are informed. The success story of this company, began here in the UK in 2014, and has gone from strength to strength ever since.
In addition to this new style of working out, Dean Heitman decided it was only right for a clothing range to be launched to compliment the brand. From there, the sister company: Totally Sassy and Totally Solid came about. The ethos of Totally Shredded is that 'no matter who you are...if you believe and work hard enough, every dream can be a reality.'
Totally Sassy gym wear is women's sportswear, like no other. It is designed to withstand a whole range of tough workouts, all the while, offering a range of styles to suit a variety of tastes. Leggings and sports bras are available in a variety of matching sets to ensure you stand out from the crowd for all the right reasons. You can choose from zebra, diamond, honeycomb and more, depending on your style preference.
Totally Sassy gym leggings are offered with a high rise waist, to ensure comfort and coverage during your workout. The Totally Sassy sports bras are well fitted to ensure maximum support, keeping you comfortable and confident whichever way you bend.
So whether you're a cardio girl, weight trainer, yoga expert or some other fitness fanatic, Totally Sassy have gym apparel to suit your requirements. Browse the selection online at www.GymWear.co.uk for the most competitive prices around.
GymWear UK are reputable suppliers of many trendy fitness brands, and not only are they competitive with pricing, they also offer speedy delivery services, secure payment options, easy returns and an excellent customer service. Enjoy your shopping experience, with this 5 star service and enjoy working out in your new gym wear within days.