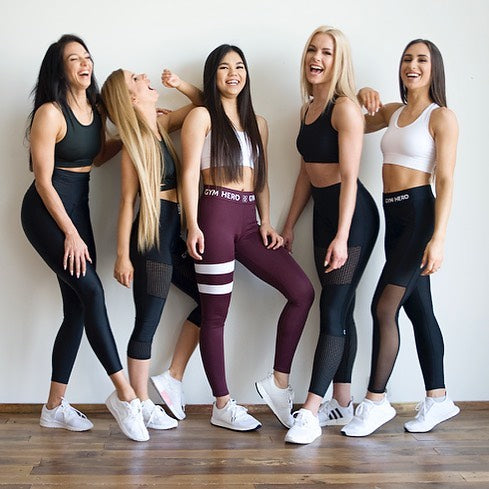 Women's fashion has been a vital part of a woman's life for centuries. Fashions change throughout the seasons, and throughout the years. In more recent decades, fitness fashion has become a huge part of the fashion scene too.
Quite possibly the most talked about, purchased and desired fitness clothing items for a lady in 2018, is sports leggings. Often referred to as gym trousers, yoga pants or leggings, they are a must have for every girl, in a whole range of colours and designs.
Thankfully, GymWear stocks a whole range of stunning sports leggings to suit a host of tastes and preferences. From Fitwear, to FKN and Echt to Combat Dollies, there are brands to suit your individual requirements, and colours to excite your wildest dreams.
Combat Dollies
Combat Dollies leggings are designed for extreme comfort, as well as style. Sublimation printing on the material ensures that your patterns will not print or crack, despite how many squats or washes you put them through.
Fitwear
If you're looking to team style and sophistication, Fitwear have a range to tantalise. Suitable for your workout, or going out. Choose from a range of long or 3/4 length leggings with stylish print, or plain, bright colours and show the world you mean business.
Cut Above
Cut Above do exactly as they say: they are a cut above. If you're looking to stand out from a crowd during your gym or studio workout, then browse the selection of Cut Above leggings and find the colour which will make you feel like the super woman you are.
Pursue Fitness
For a seamless sports legging, with a high waistband to prevent slipping, a reflective logo and complete comfort, Pursue Fitness have a selection of styles for you. Pursue Fitness keep their designs simple, yet effective, allowing you to get complete support, with maximum comfort.
GymWear is an online fitness clothing supplier who stocks the very best in latest fitness trends. GymWear works hard to stay ahead of the latest fashion, by recruiting new designers frequently, before they become mainstream.
GymWear ensures they offer extremely competitive prices on all brands which they supply. In addition to this they also offer free delivery on all UK orders over £40. You are guaranteed speedy delivery, secure online payment options, excellent customer services, and an enjoyable online shopping experience.
So what are you waiting for, browse the selection of trendy women's sports leggings online at www.GymWear.co.uk