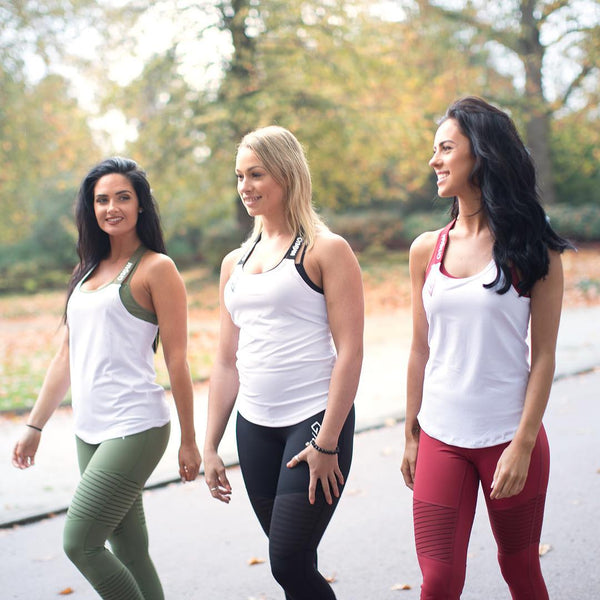 Fashions come and go with the seasons, and have done for centuries. Gym fashion is also a changing trend, with the head bands, sweat bands and neons of the 80s, to more sophisticated, darker trends of the 90s. However, in more recent years, gym clothes have continued to evolve, and we are now seeing our gym clothes fashion seep into our everyday wear, in and out of the gym.
Womens gym leggings, yoga pants, or whatever you want to refer to them as, are a phenomenal piece on the market nowadays. There are more styles, colours and patterns than your wildest dreams could ever imagine. You can fade into the background, or be the loudest one at any event, or anything in between. with your choice of women's gym leggings.
People are opting to wear their gym leggings to the supermarket, bars and even to work, dressing them up with heels and then switching to trainers for that after office workout. The available styles nowadays, make gym wear so versatile, meaning we have even more of an excuse to invest in more pairs than we may otherwise require.
GymWear UK has a substantial collection of extremely high quality, eye catching, comfortable women's gym leggings. From brands such as Combat Dollies to Squat Wolf and Versa Forma to Totally Sassy, to name only a select few of the designer labels available, you will find whatever you need from this gym clothing supplier.
GymWear UK have managed to collaborate a selection of women's gym leggings to suit every shape, size and style, without compromising quality or comfort. The items supplied are of extremely high quality, and include lightweight and breathable materials to make them as effective as they can be at assisting your workout. These yoga pants work to keep you dry, cool, warm and comfortable. It is also vital that your gym leggings don't restrict your movement or workout; the fit needs to be perfect.
GymWear UK offers excellent sizing guidelines, as well as easy returns to ensure you find the perfect pair for your requirements. Prices are extremely competitive, including a great sale section too, so you can increase your selection, without breaking the bank.
You can coordinate your new gym leggings with the suggested outfits at GymWear UK, ensuring you not only ooze comfort and support, but that you also look the part. You'll be turning heads for all the right reasons. The only downside to your shopping experience is having to decide which leggings you are going to opt for. My personal favourites are the Combat Dollies Suzie Capri Fitness Leggings, because of the colour, style and fit. They are also brilliant for yoga for fitness. So browse the available selection online and order your preferred womens fitness leggings today!