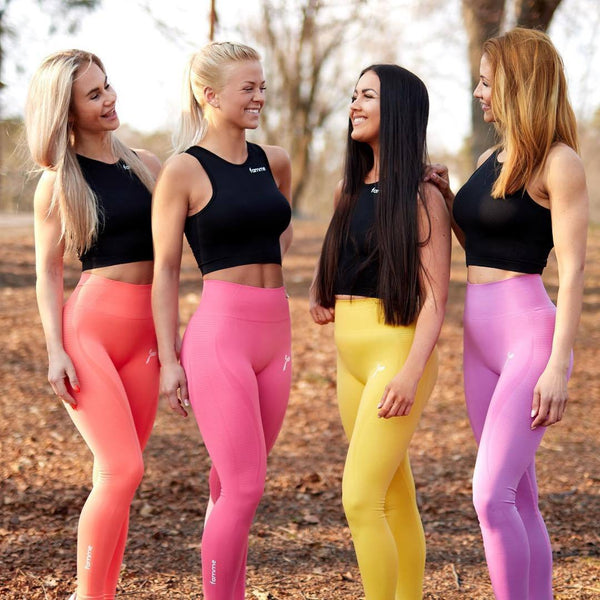 Famme is a relatively new clothing brand, specialising in women's clothes. Two French founders, launched this stunning brand five years ago, bringing stylish, effective clothing for your gym workout or everyday use. Garments are manufactured in an environmentally friendly and sustainable way, to ensure the best for nature. So whether style, comfort or the environment is your thing, Famme is the perfect brand for you.
The main Famme office is based in Oslo, Norway. However, Famme now supplies high quality gym clothing nationwide, proving just how great the clothing is, by it's success.
Famme supplies a stunning range of vortex leggings in a range of styles and colours. These high waisted leggings are extremely flattering and sculpting, accentuating your perfect derriere. They can extend the look of your leg length, slim your waist, and add curves in all the right places. In addition to looking hot, they are also great for comfort, leaving no risk for flashing your underwear at inopportune moments, due to the high waist band. The tight fitting gym leggings also offer support during your workout and ensure you won't have any excess material getting in the way during your exercise regime.
The ever-popular wave gym leggings are also a fine choice for flattery, once again, accentuating your perfect curves and edges.
From bright reds and blues, to lilacs, greys and everything in between, you will not be left short of choice from the range of gym wear offered by this popular, up and coming brand, Famme.
As well as workout leggings, crop tops, invisible, seamless thongs, and more can be purchased from this expert duo. In fact, the only thing you may find as a downfall from this brand of gym clothing, is that you will be totally spoilt for choice for what to buy. The colours and designs are all so breathtaking, it is a challenge to choose only one item.
GymWear UK is a UK supplier of a range of gym clothing. GymWear UK guarantee all of your purchases, offer competitive prices, delivery and a secure and enjoyable shopping experience. So if you're brave enough, why not check out the selection of high-quality gym wear available online today; just make sure you have your credit card handy. www.GymWear.co.uk