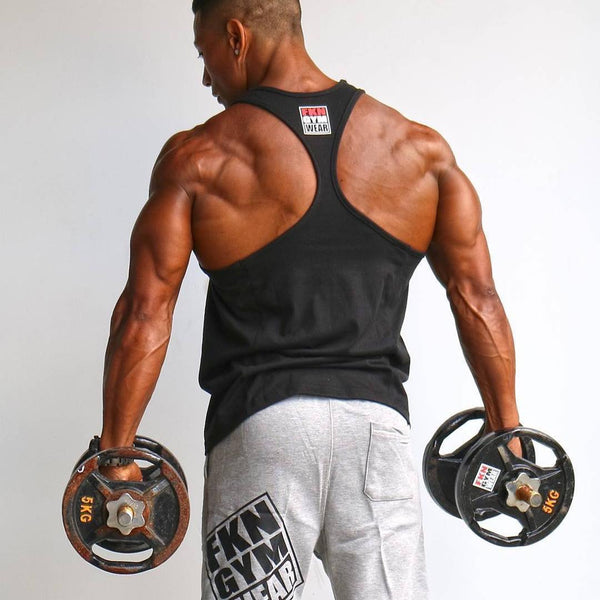 Looking for mens gym wear? Like anything, there is always an exception to any rule, however, stereotypically, men are not a fan of shopping. Which is why we've compiled a guide to the basic essentials needed for any man's gym wear wardrobe.
Hoodie
Yes, you're likely to warm up in a gym, but wearing a good quality hoodie to the gym will ensure you keep warm on the way to and from the gym, and will also ensure your muscles are able to warm up gradually pre-workout, and not get too cold too quickly post workout.
T-Shirt or Vest
Choose your favourite styles and colours, of course, but opt for a lightweight top, which is designed to keep you cool. Ventilated and breathable materials can make it easier for you to work out for longer, because increased body temperature can increase your heart rate. By dressing well and keeping cool, you'll have more energy for lifting or running that bit harder.
Bottoms
Sometimes choosing gym wear is down to personal preference, but whether you're more of a shorts, or joggers guy, it's worth investing in breathable fabric for your lower body too. You may also want to think about supportive underwear, especially if you're sporting shorts, we wouldn't want anything flopping out at the wrong moment. Ideally, a staple collection of gym wear would consist of both shorts and joggers, but if you're ashamed of your chicken legs, or know you'll easily overheat then go with what you know.
Workout Shoes
Supportive workout shoes are the perfect gym companion for weight lifting or stationary cycling. If you're more of a runner, you'll need a pair of running shoes to protect your joints from the impact of running, but otherwise, workout shoes are the perfect choice.
Fitness Tracker
Whether you're an Apple freak, or prefer the tried and tested FitBit, men tend to love a gadget, so why not let the gym give you an excuse to get a new one. If you do more strength training than cardio, it is worth investing in a heart rate monitor for a greater accuracy.
Sports Bag
You'll need something to carry your fancy new gym wear in, so choose a sports bag instead of making do with that stinky old boot bag.
Accessories
From sports caps, socks, sweat bands, straps and sports bottles, you can take the shopping spree as far as you want to. As tempting as it may be to get a cheap option, generally speaking you get what you pay for, so pay less and you may find your water bottle leaking, or your cap isn't as lightweight or breathable as you'd hoped.
Browse the available clothing with us at GymWear UK, or have another read of with our guide on what is appropriate gym wear.