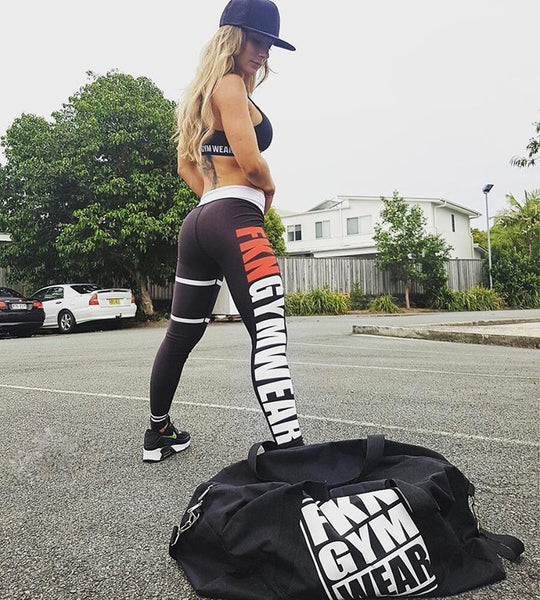 The primary reason for going to the gym is to get fit, right? Whether you want to shed a few pounds, bulk up, tone, strengthen or improve your cardio fitness, the gym can help you. It seems that the gym is not just a hot spot for exercise, but also for checking out prospective dates too. For this, and many other reasons, your gym wear has an important role to play. It needs to support you, offer comfort and also, make you look good.
Combat Dollies: If you are looking for something funky, bold and eye-catching to wear while you work out, then this is the brand for you.
Click and View our range today!
Sleeveless T-Shirts
Show off your guns with a designer sleeveless t-shirt. This type of gym wear is great for attracting female attention, as you display your arms and shoulders, but still leave your chest and abs to the imagination. The sleeveless T-shirt on the link below is high quality and breathable material, preventing any nasty rashes, and keeping you comfortable whilst you work out.
Joggers
Shorts are a popular option for gym wear, however sometimes baggy shorts and a lack of underwear can leave you gents showing a little bit more than you bargained for, especially on a rowing machine or when stretching. Men's joggers are a great choice for gym wear, offering style and comfort combined. These Echt tapered joggers are a popular choice for trendy athletes, with the tapered bottoms ensuring there is no risk of catching them and tripping.
Hoodies
No one looks hot when they're shivering, or suffering with a sore muscle through inadequate clothing to keep you warm before and after a workout. GymWear UK offers a range of warm, stylish hoodies for you to wear with attitude. In fact, these hoodies are so stylish, you'll probably be tempted to wear them even when you're not at the gym; just don't be tempted to let that fittie from Zumba steal it, they're too good for girls.
Gym Wear is about more than what to wear to the gym. It is a way of displaying your personality without speaking, a way to attract others or even a way to blend in if you prefer not to stand out. Being comfortable in your gym wear, will be reflected in your confidence, so choose wisely, something that is perfect for you. Check out our blog on fitness fashion, or read our advice on seasonal gym wear today and Shop Now!